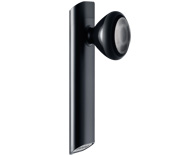 Going Wireless With the Apple iPhone Bluetooth Headset:
Tired of having to fumble for your phone every time a call comes in while you are driving? With the Apple iPhone Bluetooth Headset, you will be able to take calls with the push of a button.
Cell phone use is one of the major causes of traffic accidents today. When your phone rings, you have to search in your jacket, pants pocket, or purse for your phone, and find the "talk" button to take the call. The Apple iPhone Bluetooth Headset eliminates this problem by giving you a simple, easy way to take calls while you are on the road.
Imagine receiving a call from your boss while you are driving to work. You are stuck in heavy traffic, and taking your attention away from the road for even a few seconds could cause you to have a traffic accident, ruining your day and costing you thousands of dollars in repairs. Still, you cannot afford to miss the call, because you know you have a board meeting later in the day, and your boss has critical information about the meeting to share with you.
With the iPhone's Bluetooth Headset, all you have to do is push a button on the earpiece, and you will be instantly connected. No messing with tiny buttons or fumbling for your phone – just a quick, easy connection that won't divert your attention from the road.
So if you need to stay connected on the go, pick up the Bluetooth Headset for your Apple iPhone. It will save you time and effort, and can help you avoid costly accidents while driving.
---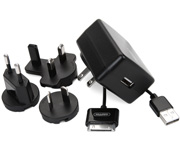 Charge On the Go with the Apple iPhone Power Adapter:
If you are going on a business trip or a vacation, you may not be excited about the prospect of taking your laptop or a cumbersome docking station with you just so you can charge your iPhone while you are traveling. With the Apple iPhone Power Adapter, you'll never have to lug around a laptop to charge your iPhone again.
The Apple iPhone Power adapter is a lightweight, compact device that you can use to charge your iPhone wherever you go. To charge your iPhone, all you have to do is connect it to the Apple iPhone Power Adapter via a USB cable, and plug the adapter into any available power outlet. It's that simple. You'll be able to attend to your other task, and when you come back, your iPhone will be fully charged and ready to go.
If you're traveling internationally, that's no problem, wither. The Apple iPhone Power Adapter comes with inserts to connect to any type of power outlet worldwide. So no matter where you go, you'll still be able to charge and use your Apple iPhone without worry.
This inexpensive accessory is highly portable and will leave plenty of room for your luggage or paperwork, yet is an invaluable item if you need to charge your iPod on the go, but don't want to bring along a laptop or docking station.
---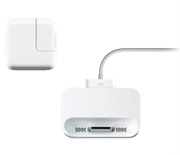 Enjoying Your Media On the Go with the Apple IPhone Dock:
If you own and use an Apple iPhone, you know how convenient it can be to stay connected with your friends, family, and business associates while being able to enjoy your audio and video media right on your iPhone. But what about when you are at the hotel at night, or anywhere else where you want to charge your iPhone while enjoying your downloaded media?
The Apple iPhone Dock can provide an easy solution to this problem. This docking station is designed to fit the iPhone, which cannot be used with most other docking stations. All you have to do is load your iPhone into the dock, connect the dock to a pair of external speakers, and you'll be able to enjoy your downloaded media without draining your iPhone's battery. And when you are done, your iPhone will be fully charged and ready to go.
So if you are looking for a convenient way to charge your iPhone while listening to songs or watching movies on the iPhone, pick up an Apple iPod dock. You'll never have to worry about running out of power or not having access to your audio and video media again.
---
Other Related Products:
i-Phones Main
- Are you looking for a great phone to use in the UK, that will give you access to features not available on most standard phones? then you might want to take a look at one of the newest, most sophisticated phones on the market in the UK today - the Apple iPhone ...
read more
>>
i-Phone Networks & Retailers
- Looking to buy an iPhone in the UK, but aren't sure how to find a service plan for your iPhone? There are several cell service carriers in the UK that offer service for the iPhone ...
read more
>>
---