With all the great features and abilities of the new generations of iPods and indeed all MP3 players it seems a shame to stuff it in your pocket whilst out and about. Happily, there is a huge range of accessories available to get your music toy in any place you want on your body (no seriously!) but here are the top ones for sports enthusiasts:
---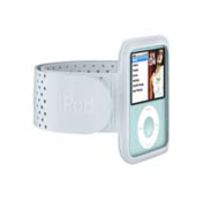 InCase Sports Armband for iPod Nano:
Playing music while exercising is a great way to stay motivated and keep your energy level up during your workout. An Apple iPod Nano is a convenient gadget to download your favorite workout music from your PC or Mac computer, so you can take it to the gym with you, without having to bring a stack of compact disks along.
However, this solution is not without its challenges. First, having an iPod clipped to your weight belt or waistband exposes your portable media device to damage from weights or other exercise equipment. Second, the earphone cord used for all models of iPods can easily get tangled in a weight machine, elliptical handlebars, or free weights, exposing you to physical injury.
An inexpensive but effective solution is the InCase Sports Armband for the iPod Nano. This convenient accessory provides a clear case to protect your iPod Nano, and a durable band to fit around your arm. Because the band id flexible, it will fit you no matter what your size - no guessing whether or not the armband will be big enough.
The In Case Sports Armband keeps your iPod Nano safe by keeping it strapped to your arm and out of the way. And, it keeps you safe by giving you a way to tuck your earphone cord out of the way while you are exercising.
---
Apple iPod Shuffle Armband:
If you like to listen to your iPod Shuffle while you are jogging or lifting weights, then you know how cumbersome it can be to have your iPod clipped to your waistband, and the cord of your headphones getting in the way of your workout.
The Apple iPod Shuffle armband can help eliminate these issues, giving you the freedom to work out without constantly having to adjust your iPod or untangle your headphone cord. The flexible canvas arm band wraps securely around your upper arm, and hold your iPod Shuffle tightly in place, keeping it safe from damage and securely out of your way.
With the Apple iPod Shuffle Armband, you will be able to jog, play sports, or lift weights while listening to the music you have downloaded from your home PC or Mac computer. And since it keeps the iPods safely out of the way, your concentration will be on your game or workout, not on constantly adjusting your iPod.
So if you're looking for an inexpensive, reliable way to keep your iPod tucked away so you can streamline your workout or improve your game, be sure to pick up the Apple iPod Shuffle armband - it will let you take your game or workout to a whole new level.
---
Griffin Tempo Armband:
Downloading your favorite music to your Apple iPod from your home PC or Mac computer can be a great way to add enjoyment to your daily activities. Unfortunately, if you are engaging in an active pursuit, such as mountain biking, snowboarding, or skydiving, having an iPod clipped to your belt and earphone wires dangling from your neck is hardly an ideal situation. If you use your ipod during active sports, then you should consider purchasing a Griffin Tempo Armband.
The Griffin Tempo Armband secures iPods via weatherproof enclosure attached to a durable but flexible armband. The armband fits around your upper arm or your jacket sleeve, keeping your iPod on your upper arm and safe from potential damage.
The Tempo also helps keep your headphone cord out of your way, by allowing you to tuck the cord into the armband's pouch, so you'll have just the length of exposed cord you need to keep from pulling the headphone jack out of your iPod unit while you are working out or engaging in active sports.
So if you want to make sure to keep your Apple iPod safe and out of the way while you are participating in extreme sports, working out at the gym, or just gardening at your house, check out the Griffin Tempo armband - this inexpensive accessory can help prevent damage to both you and your iPod.
---
Other Related Products:
iPods Main
- Since it's first launch the Apple iPod has been in a class of it's own. Smoothly linking style with functionality it has become an icon of the gadget industry rather than just another option ...
read more
>>
Big Gig iPods
- How much is too much? It seems as though no limit has been set with two of the iPod range having large Gig capacity than most modern laptops! But how much to you need ... read more >>
iPod Speakers
- With MP3 players becoming a staple of most people's tech diet the most natural move was away from stand alone HiFi systems to a more integrated lifestyle ... read more >>
iPod Cables
- Always worried that your gear is out of date? Seems that just the day after you buy your gadget, version 2.0 is released the following morning! Well, you don't have to buy a new MP3 player every week ... read more >>
iPod Docks
- I remember taking the good part of a week to upload and sort through the music on my MP3 player only to have to go through the entire process again on with my next MP3 ... read more >>
iPod FM Transmitters
- These days (as usual being many years late!) more and more cars are coming off the production line with access points to plug your ipod directly into your car stereo ... read more >>
iPod Headphones
- The humble headphone is one of those things that you just can't imagine will ever be replaced. Even if they turned it into some sort of implant that was surgically crammed into your earhole ... read more >>
---