---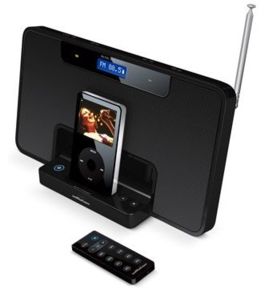 Altec Lansing iPod Speakers:
Using your Apple iPod Nano to download music from your home PC or Mac computer is a great way to take your library of music and video with you, no matter where your travels take you. However, if you sometimes want to be able to listen to your downloaded music without the constraints of headphones, choosing a speaker system that will accommodate iPods can be a challenging task. There are a number of systems available that can do this, but many of them are not easily portable, and don't give you all of the features you need to fully manage your music.
One notable exception is the Altec Lansing iM500 iPod Nano Speakers unit. Although this unit delivers stereo quality sound (including impressive bass), the unit is just over a half inch thick. And since the iPod itself acts as the control panel for the unit, rather than having a separate control panel, all of your iPod controls are right at your fingertips. The Altec-Lansing iM500 can even be powered by disposable batteries - it will play up to 10 hours on 6 AAA batteries, so you can truly take it anywhere you go. And with its custom carrying case, you'll never have to be without your favorite music.
Altec-Lansing iPod Systems:
Are you looking for a portable speaker system, for your Apple iPod, so that you can enjoy the music downloads from your Mac or PC? Check out these three models! The iM3c features clear sound quality by using neodymium 28 mm Micro Drivers. You can simply plug your iPod into the dock to listen or re-charge. This system is small, portable, and comes with it's own protective carrying case. The iM5 model is compatible with most iPods and features 24 hours of battery life. It's convenient and portable design folds in for easy transport. It is also equipped with a docking and re charging station.
The iM9 is compatible with all iPod models. It even has a dock connector so that you can link your iPod videos and pictures to your television! Like the other two models, you can dock and charge your iPod in the iM9's convenient docking system. Portability was also taken into consideration with this model. The system fits into a back-pack style carrying case, so you can pack it up, sling it over your shoulder, and go. At last, you can have portable, long lasting speakers for your iPod. So check out the iM3, iM5, and iM9 to see which system is perfect for you!
---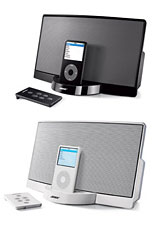 Bose Companion iPod Speakers:
Do you download a lot of music or watch a lot of videos on your Mac or PC? Do you wish you could have high quality surround sound for your Mac or PC? Do you spend hours gaming, or on your computer, and wish that you could have surround sound quality to envelope you in the game? Then check out the Bose Companion 5 Multimedia Speaker.
The Bose Companion Multimedia Spearker system is fun, fun, fun! With two small speakers and a hideaway Accoustimass, you can get the surround sound quality from your Mac or PC, that you can get from a television surround sound. This superb sound quality makes these speakers great for finding music downloads to add to your Apple iPods or gaming consoles, and is essential for watching videos online!
This system offers top of the line convenience as well. The Bose Companion 5 Multimedia Speaker set comes equipped with an all-in-one control pod for ease in volume control. You can own one of these innovative speaker systems for around £200, and the superb sound quality makes this system worth every penny! So what are you waiting for? Check out the Bose Companion 5 Multimedia Speaker System today!
---
JBL OnStage Speakers for iPod:
If you enjoy using your Apple iPod to play music that you have downloaded from your home PC or Mac computer, then you know the freedom that comes with being able to take your library of music on the go. But what about those times when you want to listen to your music collection without the constraint of headphones?
The JBL On Stage II gives you a powerful way to enjoy your music in your home or office, without the need for a cumbersome stereo system. The OnStage speaker system provides stereo quality sound with four Odyssey neodymium transducers, which provide sound that is far superior to standard ceramic or aluminum drivers. Even with the power of the JBL On Stage II to play iPods in stereo sound, this unit is light enough to take with you wherever you go, and small enough to place on your desktop without taking room away from your computer or books.
Not only that, but the OnStage II also includes a wireless remote, so you can control your music from up to 50 feet away, even if you are in another room. This means you can turn up the volume when your favorite song plays, or mute the unit when the phone rings.
JBL On-Stage Speakers:
The Apple iPod is a great electronic device for playing music downloaded from your home Mac or PC, but sometimes listening to your music through headphones is neither practical nor preferable. There are a number of good iPod docks that provide external speakers for iPods, but one unit that is more portable and easy to use than most is the JBL OnStage Micro Speakers unit.
This unit delivers high quality sound from a small donut shaped speaker system that surrounds your iPod unit, so you can enjoy your music in any room in your home. And with her OnStage's ability to operate on standard disposable batteries, you can take the unit anywhere you go, and enjoy your downloaded music in your hotel room, on the beach, or on a picnic with your friends and family.
The OnStage unit also allows you to charge your iPod while it is playing, and its built in USB port gives you the option to sync your iPod with your iTunes library, so you can even update your iPod on the go. So if you're looking for a way to enjoy your downloaded music without the constraints of headphones, the JBL On Stage Micro Speakers unit can be a perfect solution for you.
---
Fatman iTube Valve iPod Speakers:
As much as the advent of digital music has revolutionized the world of music enjoyment, serious audiophiles have noted (with some disdain) that what digital music gains in convenience, it lacks in warmth. If you listen to an old analog stereo and then listen to your iPod, you'll certainly notice the difference - analog stereos product a much richer, full sound.
If you've grudgingly entered the world of digital music but miss the analog sound, then consider the Fatman iTube Valve iPod Speakers. The iTube Valve is a standalone unit that converts the digital music of Apple iPods to analogue, and pumps the richly textured tones through its generous optional speakers, giving you the analog sound you've been missing.
The unit consists of an amplifier and an iPod dock. The iTube Valve's speakers are sold separately, but you can use any good quality speaker system with the unit. The iTube Valve also comes with a remote control, so you can change, pause, and adjust the volume of your music from just about any room in your home. However, it does not include a USB port to connect to your PC or Mac, so you'll have to synch your iPod with iTunes separately.
At nearly £400, this unit is for serious listeners. But if you crave the sound that only comes from analog music, the iTube Valve will certainly deliver.
---
Other Related Products:
iPods Main
- Since it's first launch the Apple iPod has been in a class of it's own. Smoothly linking style with functionality it has become an icon of the gadget industry rather than just another option ...
read more
>>
Big Gig iPods
- How much is too much? It seems as though no limit has been set with two of the iPod range having large Gig capacity than most modern laptops! But how much to you need ... read more >>
iPod Speakers
- With MP3 players becoming a staple of most people's tech diet the most natural move was away from stand alone HiFi systems to a more integrated lifestyle ... read more >>
iPod Cables
- Always worried that your gear is out of date? Seems that just the day after you buy your gadget, version 2.0 is released the following morning! Well, you don't have to buy a new MP3 player every week ... read more >>
iPod Docks
- I remember taking the good part of a week to upload and sort through the music on my MP3 player only to have to go through the entire process again on with my next MP3 ... read more >>
iPod FM Transmitters
- These days (as usual being many years late!) more and more cars are coming off the production line with access points to plug your ipod directly into your car stereo ... read more >>
iPod Headphones
- The humble headphone is one of those things that you just can't imagine will ever be replaced. Even if they turned it into some sort of implant that was surgically crammed into your earhole ... read more >>
---